A few more of the funnier wedding announcements I have found. Just a note: Proper etiquette should have the bride's name listed before the groom's. I suspect the folks at the newspapers sometimes "accidentally" reverse them.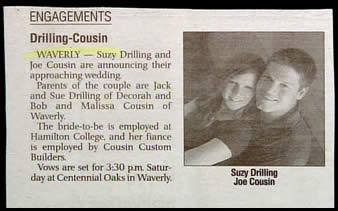 Like a scene out of Deliverance
Good thing the newspaper didn't mix it up and put Wetter-Beaver.
.
We know what rules!
z
Drink wine, lay her, and then you have to marry her.
Too funny
Strange that the Groom isn't shown. Maybe she butchered him already.
She was such a good wang holder that he married her.